A Reflection From Detroit – Summit Successes
I am thrilled and energized by the success of our 2022 Detroit CIO Executive Leadership Summit yesterday, co-produced with SIM Detroit. The theme for the in-person event was Leading Boldly and Authentically – Inspiring Trust and Winning in the Global Digital Economy and we assembled a truly world-class roster of rock-star speakers, presenters and panelists. Kudos and congratulations to all involved!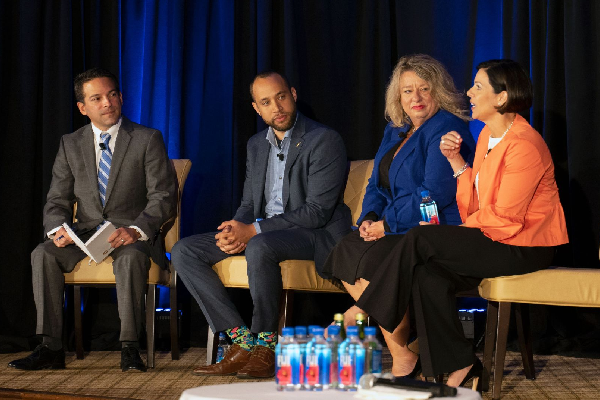 You can view the complete program and agenda here. Meantime, here's a quick overview of yesterday's amazing summit and fascinating executive panels:
In an exclusive fireside chat, Mamatha Chamarthi, Global SVP of Software and Business Management at Stellantis, spoke about how she has drawn upon her business and technology expertise to excel in her current role, how she is leading a charge to achieve 20 billion (Euros) in revenue by 2030 through a new set of mobility and software services, as well as the business technology leadership lessons she has learned along the way.
Following my interview with Mamatha, I moderated a compelling executive panel discussion on Accelerating Your Winning IT Strategy with World Class Technologies and Partnerships, with Arun DeSouza, Chief Information Security & Privacy Officer, Nexteer Automotive Corporation; Luis Giraldo, RVP, Business Value Consulting, OutSystems; and Chris Voce, Strategist, Value Advisory, Citrix.
The next executive panel, Partnering with Business Leaders on SaaS: Pivoting from a Department of 'No' to a Gateway of 'Go,' was a very timely discussion which included Maureen Niemiec, (Former) VP – IT, Retail Banking, BSA/AML – Internal Audit, Flagstar Bank; Ashok Sivanand, Principal, Integral.io; Jane Sydlowski, CEO and President, AMI Strategies; and Noha White, CIO, Detroit Diesel Company / DTNA.
Our Pushing the Edge panel discussion, which was also custom developed for the Detroit summit, focused on how sensors and data are creating new insights for executives in manufacturing, retail, construction, entertainment and other industries. The panel featured Sanjay Kumar, Senior Principal, Siemens Digital Industries; David Decker, Director IT, American Axle & Manufacturing; Bernd Raithel, Industrial Edge leader, Siemens; and Samir Taylor, CEO, xFacture.
Our executive panel on How the Internet of Things is Impacting Cybersecurity included Mike Homant, CTO & Deputy CIO, City of Detroit; Geeta Kapoor, VP Information Security, MSC Industrial Supply Co.; Nick Latorre, Head of Product Cybersecurity (ICT & Digital), Stellantis; and Sajay Rai, President and CEO, Securely Yours LLC.To learn more about our upcoming summits and to register, including our 2022 Southern California CIO Executive Leadership Summit in Partnership with Southern California SIM on September 13 in Huntington Beach, click here.
We also announced our most recent HMG 2023 Global Leadership Institute Awards Program Nominations:
Mamatha Chamarthi, Global SVP Software and Business Management, StellantisJason Torrez, Sr. Director, Digital Workplace Technologies, GE AviationKiran Sekhri, Chief Innovation Officer, WCCCD. The HMG 2023 Global Leadership Institute Awards honor elite global technology, business and search leaders whose teams are delivering unparalleled value to their organizations. These prestigious awards recognize the top-performing Chief Information Officers, Chief Information Security Officers, and other Senior Technology Leaders, Search Industry Executives, Venture Capitalists and Partner Executives who have demonstrated exceptional leadership in the following areas:
Diversity, Equity & Inclusion (DEI)
Leading Into the C-Suite
Safeguarding the Enterprise
Building a Culture of Trust
Creating New Go-to-Market Business Models
Modernizing Enterprise Architecture
HMG's 2023 Global Leadership Institute Awards recognize truly exemplary technology executives for their performance as courageous leaders, powerful innovators, and superior contributors to their organizations​​. Recipients of these awards include executives who have also shared world-class thought leadership with the HMG Strategy CIO and CISO Executive Leadership Summit series audiences and/or on the HMG Strategy Digital Platform as part of their ability to lead, reimagine and reinvent their companies and their organization's business models.
The HMG Ecosystem also includes our HMG Global Actionable Insights Advisory Services, a unique set of research services that are designed to keep business technology executives up to speed on the latest leadership, business, technology and global macro-economic trends that are impacting businesses and industries.
HMG Strategy's latest advisory service is the HMG Strategy Genius Service, a unique peer-focused subscription service in which CIOs and other technology executives in the HMG community can submit inquiries regarding a particular challenge they may be facing (e.g.; negotiating a global ERP licensing agreement) and be matched with an expert in the HMG network who can offer qualified advice.
HMG Strategy's Global Media Model generates more than one million impressions per week, providing vast opportunities for business technology leaders and sponsor partners to promote themselves, their thought leadership and their professional brands on a global scale.
We are the platform for building your brand and elevating your career. Join our network and see what HMG Strategy can do for you and your organization. To learn more about any of these services, contact me at hunterm@hmgstrategy.com or at info@hmgstrategy.com.