Cynthia Stoddard, SVP and CIO of Adobe: A More Human Way of Connecting
Nearly a year into the work-from-anywhere model, a positive new standard for cohesion, collaboration and inclusivity has dawned. In fact, 52% of CIOs across the world have reported a heightened culture of inclusivity, according to KPMG. The data also showed that 70% of CIOs have observed an increase in collaboration between the technology team and the business.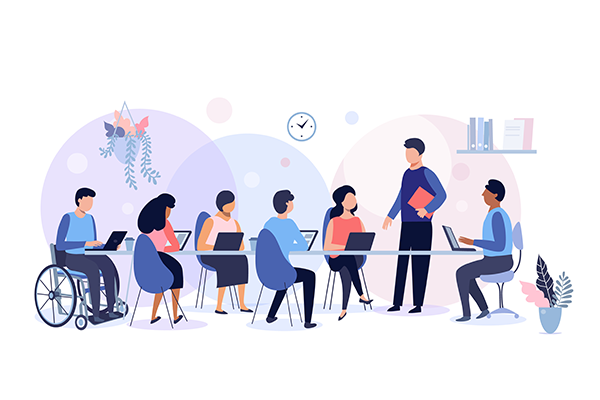 "I think [the pandemic] taught a lot of CIOs that they can do things a lot quicker and they can have a much stronger voice," said Cynthia Stoddard, SVP & CIO, Adobe.
HMG Strategy recently caught up with Stoddard to discuss the ways Adobe's leadership team has fostered a deeper human connection through virtual communication tools and their strong culture of creativity and inclusion, enabling a clearer forward vision.
"Virtual Work Has Made Our Culture Stronger"
Stoddard marked March 7, 2020 as a day of massive change for Adobe. Notable adjustments that will likely stay with the company well beyond the global health crisis include deeper communication and speed to decision making.
"In the past, there would have been a million negotiations with businesspeople, product evaluations and debates over a vendor," Stoddard said.
Now, her team expedites disruptive changes, endorsing any ideas that support reinventing the business. Those that prove fruitful are further built upon, and those that don't are still constructive experiences building toward the future vision.
Stoddard noted that, broadly speaking, this represents a change in culture. Another impactful effect of this change was the way her leadership team approached communication and transparency.

"We had a strong culture to begin with," Stoddard said. "I had an open-door office."
Translating this priority into a remote work environment was an exercise in connecting to employees on a deeper level. The circumstances of the global health crisis caused shared and widespread hardship as the world adjusted to a new normal.
"Leadership definitely is different in this virtual world," Stoddard said. "You have to really make an effort to make connections with people, because you're missing out on hallway conversations, so you have to compensate for that."
Questions such as `how is your family doing?' and `are you mentally okay' became routine as Stoddard deliberately sought to connect with employees and teammates with authenticity and compassion.
"I think the style of communication has changed in order to connect at a different level. We have that empathy for what people are going through," Stoddard said.
Engaging with staff at all levels, Stoddard has heard employees open up about stress, navigating life with children attending school virtually and feeling the absence of family across the world.
"Working virtually for us has actually made our culture stronger," Stoddard said.
This has created a foundation of respect and understanding for the circumstances and challenges experience by each employee. All are more disposed to work around their teams' schedules and personal priorities.
"The style of communication is different than what we've seen in the past," Stoddard said. "We've used a more human way of communicating."
"Creativity Comes from Every Level at Adobe"
A world-class vision starts with excellent leadership from the very top. Stoddard praised Shantanu Narayen, Adobe's CEO, for leading with drive and foresight.
"What makes a good leader is knowing when to inspect and what to inspect," Stoddard said. "He questions things. He has a vision to see the future and put these creative tools into the hands of literally anybody and enable creativity across many different dimensions of business."
Ultimately, that drive isn't limited to the leadership team.
"They're all visionaries— It's not a hierarchical organization," she said. "Around the table, everybody has a voice, you speak your opinion and that's really the best way to run a business. When I joined Adobe, one of the things I did was brought all different levels of the organization together so that we could co-develop what the future of IT would look like."
Stoddard said developing that future vision relies heavily on creativity. She said the broad mission at Adobe is to spread that creativity.
"Creativity can come from any place in the company," she said. "Everybody is respected, whoever you are. Whatever you came from, humble beginnings or otherwise."
Diversity, voice and equality are priorities Stoddard cited as key in setting a tone from the top for demonstrating respect, humility and listening. Listen to the needs of your employees, she urged, and listen to the needs of your customers.
"If you create a happy workplace for employees, and focus on the customer, then you're going to find harmony," Stoddard said. "That's part of the secret."
Stoddard shared an example of how this method of leadership is crucial not just to maintain an inclusive environment, but for business development.
"We act as customer zero for a lot of our products," Stoddard said.
Innovations in document management such as digital signatures and even Adobe's digital experience platforms are implemented and scrutinized within the enterprise. This practice offers an organic voice for feedback and direct line to the product teams, helping to accelerate innovation and improve go-to-market capabilities.
"You get the best ideas from people who actually do the work," Stoddard said. "The ideas from the individual contributors about what's working/not working is absolutely golden."
Stoddard said she now hosts all-hands meetings between different levels of the organization to ideate and share their voice.
"Instead of just me and my management team present, we're bringing in people throughout the organization and having them do demos and presentations," Stoddard said. "I'm so proud when I see them in front of the group, talking and presenting and telling their story."
Employing this grassroots effort and hearing out voices across the enterprise is only half of the battle, Stoddard said. The follow through is where innovation truly happens.
She said, "you have to listen, but then what's really, really important is to act on the ideas."