Dax Grant, CEO, Global Transform; Former Global CIO, HSBC: Gaining a Global Perspective in an Interconnected World
In 2022, the term 'disruption' has taken on a broader meaning. Inflation, supply chain issues, talent and skill gaps and geopolitical instability are just a few of the issues weighing heavily on CEOs in the Summer 2022 Fortune/Deloitte CEO Survey.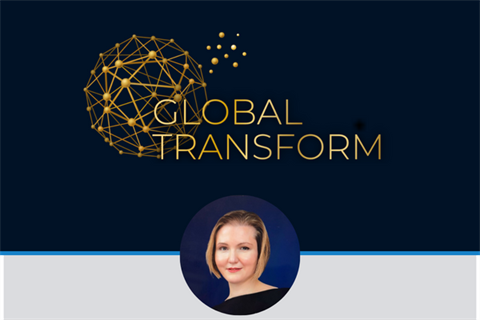 To help make sense of these and other issues facing members of the C-suite, HMG Strategy Founder and CEO Hunter Muller recently spoke with Dax Grant, Former Global CIO at HSBC who is now CEO of Global Transform and board director.
Hunter Muller: Dax, it's great to see you again. We've been studying global macro-economic trends here at HMG Strategy from the very beginning. I've always known, to be truly a world-class executive, you really need to have a global point of view. Why does a global perspective matter more than ever now, in these highly innovative, disruptive times that we're in?
Dax Grant: It's a superb question. Today's world is tremendously connected, we receive up-to-the-minute news anytime and with technology connectivity, we're able to speak to each other any time — night or day. All of these elements were simply local conversations years ago. These trends are now being brought to the fore globally. Equally, with all the ESG agenda in the boardroom, there's so many areas where we can, as a society, work together and as global leaders stand in our societal positions. There are so many places where we can add value to both our planet and our society, as well as ensuring the bottom-line results in the organizations that we run. There's a real opportunity, but there's also a vortex of global trends that sit underneath, as well.
HM: Thanks for sharing that, Dax. You also have a new book coming out, `The Entrepreneurial Quotient.' What's it all about?
DG: Yes, I do have a new book coming out. It's very exciting. It focuses on the optimal mix of societal leadership and entrepreneurial skills executives require to be fit for the future. Underneath that, the book explores how do we humanize businesses. It's a book designed for the leadership of tomorrow. Yesterday's leadership may have been great, but in today's world, we class that as 'good' leadership. We're looking for a whole new set of leadership skills and collaboration and entrepreneurial know-how in order to pull all of these things together. And really step into that societal role, as well as upholding our commercial and local roles, as well.
There's a real sweet spot now, in terms of the whole executive leadership conversation. The other part of it is that it links to the conversations you have held as part of your great relationship with Stephen M.R. Covey focusing on hisbooks around trust and the speed of trust. The Entrepreneurial Quotient talks about trust in terms of how to tap into that as a leader, but also how do you shift that from building your community to building a deep community. There are some really, interesting areas to explore things around that.
Also, Marshall Goldsmith talks about his book 'The Earned Life.' In The Entrepreneurial Quotient, we're talking about a significant life and how do you truly ensure your life is meaningful in terms of where you are as a societal and global leader.
HM: Fascinating. I look forward to reading it. So, we're clearly in a time of massive disruption and, as a global leader, you do need a global brand. One of the things Stephen M.R. Covey talks about is leadership, but the other thing is followership and getting people to follow you in this very challenging period can be tough, not to mention the tight labor market we're in.
DG: Absolutely, and we touch on this in the book in a number of the chapters.
During Covid, many people have rebased their life. And when we explore what meaningful leadership is, who would you want to follow and why? While that base of innovation is important, even more as a point of differentiation, it's about what's the purpose of the organization and how your personal leadership style as an executive leader resonates with the organisational purpose. We explore integrity of leadership works. And how does the authenticity of the organization resonate with individuals' personal visions? It's really about the opportunity to connect within and create that as a new point of differentiation in the marketplace now. All of these factors lead to natural followership.
HM: Brilliant. You talk in the book about the earned life versus the significant life. Can you please elaborate on what this means?
DG: Marshall Goldsmith's book talks very much about the earned life and where you come from and the principles that surround that. The significant life is one of the chapters in the book that's about unpacking leadership destinations at different stages in your life. This is about what is significant to you in terms of your personal journey, but also marrying that with what communities, organizations and society need and where do you want to have impact of meaning and value?
What may be a significant life for me, may not be a significant life for someone else. It's a very, very personal journey. Coupling that approach with the understanding of deep community, building trust, and taking that global perspective in terms of where you make that impact and proactively lead with impact. That's really predesigning where you really want your leadership legacy to centre on and where you want to focus next in your leadership journey.
HM: What are the implications for C-suite leaders in mid-to-large-cap companies?
DG: It's a whole net new normal, in reality. For some, this may be a small realization. For others, they will have been listening to industry, technology and global trends. This is the new competitive advantage and therefore, to be able to step into that space, to be able to explore and unpack that leadership is really important to stay current in the marketplace. And also, to be leading in the boardrooms of tomorrow.
We all know about organizations that prosper, we also know about organizations that leapfrog and it's really those sought out leaders that stand out in the marketplace and make a difference in terms of the real-world impact of their particular organizations. They stand out in a very, very different way, in terms of the legacy they leave to society and the world.
HM: Thank you for that answer. You've got an amazing background. You're now the CEO of your own consultancy, your own advisory group. You've been a COO, a CIO, a Global 100 from CIO.com in Europe. What other ideas do you want to share with executives today?
DG: I've had lots of different experiences and I am deeply grateful for all of these experiences. I am someone who loves sitting in different seats, whether it's the CEO's seat, whether it's the CIO or COO's seat. All those different experiences teach you something about what's important in terms of the accountabilities that sit with that particular position.
Having worked in small, venture-type organizations as well as large global multinationals really gives you that deep perspective. Fortunately for me, the banking experience I gained, blended with a technology perspective, provided a whole new dimension my personal leadership and how that combination works in the world.
For me, it's been quite an exciting personal journey and it's about consolidating those experiences into the next new norm. Some of that is from a societal leadership perspective, but globally and locally, a lot of that is also from a philanthropic perspective in terms of supporting societal causes and some that I support and some new areas of focus. There's a real balance and refinement in the next stage.
HM: Do you have additional board work planned?
DG: I work very closely with a number of boards, and I sit on various boards, both as a chair and as a non-executive director as well as from an executive position. I tend to re-evaluate our portfolio at various stages, but I found sitting on different boards at different times really does give you a perspective. The learnings from sitting in different organizations at various times provides you with a real-world perspective on global trends and what's happening in the marketplace, as well as the learnings between different shapes and sizes of companies and different industries, as well. The opportunity to mix some of these experiences now is quite exponential.
Key Takeaways:
Having a perspective on global events matters more than ever for technology executives – not only in terms of helping their companies address shifting customer preferences and market dynamics but also from a societal standpoint
CIOs, technology executives and fellow members of the C-suite must focus beyond the bottom line to help identify where they as leaders can deliver value to the planet as well as society
Fostering and building trust across teams and with individuals is critical for today's leaders to help attract and retain top talent in a tight labor market while cultivating a culture aimed at meeting the organization's strategic goals