Displaying Visionary Leadership in an Ever-Changing Threat Landscape: Patrick Benoit, Global Chief Information Security Officer at Brink's
I had a fascinating conversation recently with Patrick Benoit, Global Chief Information Security Officer at Brink's Inc. Prior to joining Brink's, Patrick was Global Head of Cyber Governance, Risk, and Compliance/Business Information Security Officer at CBRE. Over the course of his career, he has served as a Deputy CISO at Cheetah Digital, an Executive Business Partner at Experian; and as a Customer Delivery Executive and Service Delivery Leader at Dell. He also owned a technology consulting company, and he holds a commercial pilot's license, rides motorcycles and teaches Aikido.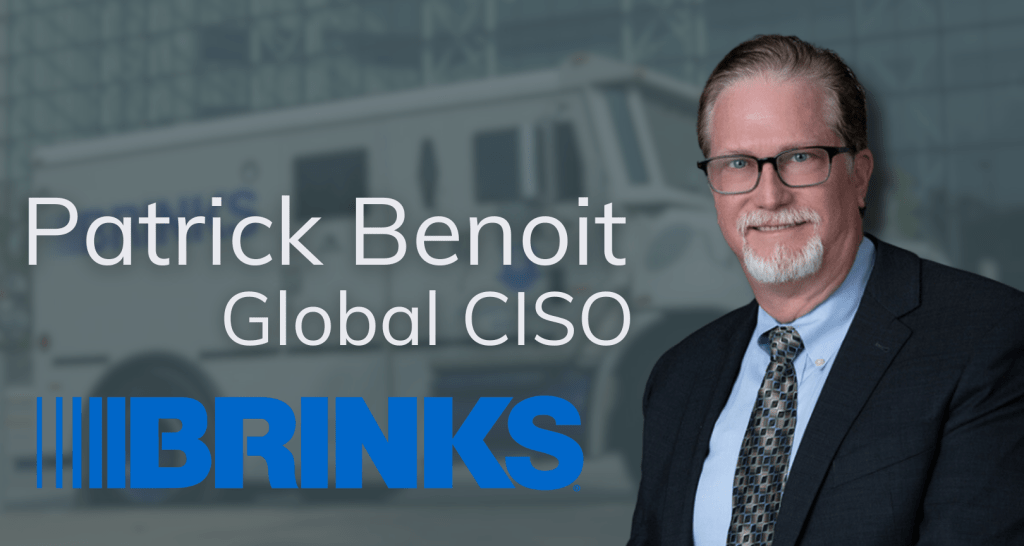 Patrick is a recipient of our 2023 HMG Strategy Global Leadership Institute Award and I genuinely enjoy speaking with him. Here's an edited and condensed transcript of our conversation:
Hunter Muller: Patrick, congratulations on your 2023 HMG Strategy Global Leadership Institute Recognition Program Award!
Patrick Benoit: I really appreciate the award, Hunter. It's an honor to be recognized this way. But you know, I have to give credit where credit is due. It's the team around me that makes this possible. Hopefully, I'm pointing in the right direction. But we're all in this together, and that's the key to our success.
HM: When you think of cyber, the threat landscape has dramatically changed over the last three years. How does a modern enterprise stay safe and secure in these challenging times? What's the major threat today?
PB: I think the biggest impact is going to be from attackers using AI to drive social engineering by gaining information about people more quickly and more easily. Because most of the attacks that occur come through people first. AI will make it faster and easier for hackers to initiate those kinds of attacks.
HM: Our theme going into the second half of 2023 is visionary leadership. What are your thoughts around visionary leadership and what's your leadership style?
PB: I am a very open and transparent leader. I live on transparency and teamwork. We try to follow The Four Agreements: Always be honest, don't take anything personally, don't make assumptions and always do your best. And we all strive to do that so we can be successful together.
HM: Tell us about a `genius moment' you've had recently that enabled you to pivot quickly to take advantage of a trend or wave in the industry.
PB: For a while, there was a surge of vendors and startups focused on best-in-breed as opposed to platforms. We saw thousands of new applications and tools that just did one specific thing. Today, I think we're seeing a shift back to integrated platforms. And that was a big `aha moment' for me.
HM: Great partners are critical to success in this industry. How do you know when you've found a great partner?
PB: A lot of it comes down to relationships. I'm not super fond of repetitive calls and emails from vendors. I'm much more attuned to the idea of a partner coming in and saying, "Hey, I want to get to know what's going on. Can we spend some time just talking?" And they don't even mention the solution they're trying to sell you. It's a much softer approach, but I think it's much more effective. It takes longer, but I think that in the end, it's going to generate more business and longer-term relationships.
HM: Talk to us about how you create rapport with the C-suite and the board.
PB: Listen more than you speak. In my opinion, successful CISOs and CIOs are much more focused on business success than on specific technologies. I tell everybody in the business, at all levels, that my team has two main goals: reducing and mitigating risks and helping to enhance revenue. If we're not focused on those two areas, then we're not achieving what the business needs us to do.
HM: What's your advice for visionary leaders in today's challenging business environments?
PB: If you want to be a leader, embrace that you have expertise in a particular domain or particular subject matter. But understand that your expertise is not going to advance you in your business leadership role. If you're not studying all of the aspects of business – whether it's finance, sales, marketing, operations – then you're shorting yourself. There are so many wonderful techniques and tips that come out of sales training. And I think it's important that technology leaders accept the fact that they need to learn about all the various parts of the business to be truly successful.
HM: Excellent advice! And congratulations again on your 2023 HMG Strategy Global Leadership Institute Recognition Program Award.
PB: I'm very honored, thank you.
Key Takeaways:
Successful leaders credit their teams for accomplishments they're recognized for
One of the top trends in cybersecurity that CISOs and security stakeholders need to be on guard for is the use of AI by bad actors to drive social engineering and gain information about consumers quickly and easily
Listen and respond to the needs of the board, line-of-business leaders and members of the senior leadership team to delive