HMG Strategy's Pivotal Vision Research Service: High-Value Insights for Forward-Thinking Technology Executives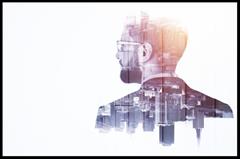 We live and work in unprecedented times. Never before have the pace and magnitude of change been greater. Hyper-competitive global markets continually spawn new challenges, risks and opportunities. No organization is safe from disruption, and there are no guarantees that today's business models will work tomorrow.
The modern technology executive faces unrelenting pressure to stay ahead of customer and market shifts. But there's rarely enough time to absorb and analyze the information that's necessary for making bold decisions that drive substantive growth and create value in highly volatile markets.
In December, we will launch HMG Strategy's Pivotal Vision Research Service, a customized, high-value offering created exclusively for forward-thinking technology leaders focused on innovation, business transformation and career ascent in the 21st century enterprise.
Pivotal Vision Research Service provides technology executives with rapid access to the trends and developments that are dramatically reshaping markets worldwide. This new service will provide you and your teams with the tools and knowledge required to lead, innovate and disrupt the enterprise, to pivot rapidly and achieve unparalleled success in the digital global economy.
With Pivotal Vision Research Service, technology executives and their teams will be able to access content from HMG Strategy's award-winning research team through a gated portal. In addition to receiving 40 comprehensive research articles per year and the latest innovation trends coming out of Silicon Valley, subscribers can download packages of content focused on the topics of their choosing, such as Board-Level Communication Strategies, Leveraging Data Analytics for Competitive Advantage, and Transformational Leadership Strategies for the 21st Century Enterprise.
As part of these services, HMG Strategy will also be hosting quarterly conference calls with technology executives featured in the research to enable subscribers to pose questions and interact on key leadership, innovation, transformation and career-oriented topics.
Over the years, HMG Strategy has invested heavily in its research and content generation capabilities, building a deep and robust digital platform specifically for forward-thinking technology executives. We are exceptionally proud of our achievements as producers and publishers of original content. Visionary leaders across a wide range of industries constantly tell us that our approach to delivering insightful thought leadership is unique and that they depend on us to provide the unvarnished truth in clear, unambiguous language. We honor that trust, and we are proud to serve a worldwide audience of thought leaders and technology-business executives.
HMG's Pivotal Vision Research Service is the next step in our evolution as a trusted platform for visionary executive leadership, and we urge you to participate by subscribing to this new and exceptionally valuable source of information and content tailored exclusively for senior-level executives and their direct reports.
In the coming weeks, we will offer more details and information about Pivotal Vision Research Service, and we hope you decide to take advantage of this important new resource.
To learn more about the service, including pricing, usage rights and content, email me at hunterm@hmgstrategy.com. Additionally, you can reach out to HMG Strategy's Chief Engagement Officer Rob Kovalesky at RobK@hmgstrategy.com or Senior Research Director Tom Hoffman at tomhoffman@hmgstrategy.com.