HUNTER MULLER ON LEADERSHIP: LESSONS LEARNED
In today's leadership column, I want to focus on the critical importance of the modern technology executive and on the increasingly pivotal role played by senior technology leaders in defining, envisioning, enabling and implementing successful business strategies that make the difference between success and failure in today's ultra-competitive markets.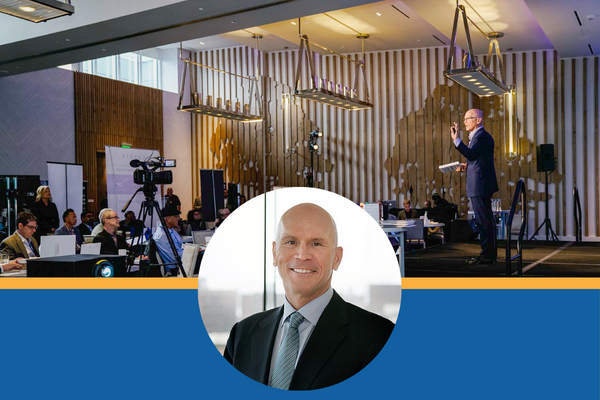 Frankly, now is the best time to be a technology executive. The C-suite, the board, investors, partners and team members all look to you for guidance, support, expertise and extreme clarity of vision. You've got a world of responsibility on your shoulders and the pace of business just keeps getting faster.
We're living through on of the most dynamic, innovative and disruptive times in human history. World-class technology leaders understand the business and how the business makes money. They understand the markets that the business serves, how their supply chain works and how to meet the needs of the customers within their markets. They know how to attract the best minds and the most talented people to join their organizations and to dedicate themselves to achieving the organization's strategic goals.
It's a tall order and I have a feeling that we're just at the beginning of a new cycle of tremendous change and intensive transformation. I urge you to think big, dream big and lead with courage, passion, empathy and creativity.
At HMG Strategy, we champion creative leaders. We provide the global platform they need to build their professional brands and to network effectively across the rapidly evolving economic landscape. We provide the tools, the support and the ideas you need to become the best possible version of yourself. Our goal is preparing you for the unlimited future and we sincerely look forward to engaging with you as we explore the newest frontiers in world-class leadership.
For the past 12 years, HMG Strategy has recognized, acknowledged and promoted world-class technology executives through its unique international platform, generating more than one million global impressions per week. The scope and reach of our recognition program will enhance your personal brand and accelerate your ability to recruit, retain and grow the talent essential that will help your organization thrive in ultra-competitive modern markets.
The HMG 2023 Global Leadership Institute Awards honor elite global technology, business and search leaders whose teams are delivering unparalleled value to their organizations. These prestigious awards recognize the top-performing Chief Information Officers, Chief Information Security Officers, and other Senior Technology Leaders, Search Industry Executives, Venture Capitalists and Partner Executives who have demonstrated exceptional leadership in the following areas:
Diversity, Equity & Inclusion (DEI)
Leading Into the C-Suite
Safeguarding the Enterprise
Building a Culture of Trust
Creating New Go-to-Market Business Models
Modernizing Enterprise Architecture
HMG's Global Leadership Institute Awards recognize truly exemplary technology executives for their performance as courageous leaders, powerful innovators, and superior contributors to their organizations​​. Recipients of these awards include executives who have also shared world-class thought leadership with HMG Strategy CIO and CISO Executive Leadership Summit series audiences and/or on the HMG Strategy Digital Platform as part of their ability to lead, reimagine and reinvent their companies and their organization's business models.
The HMG Ecosystem also includes our HMG Global Actionable Insights Advisory Services, a unique set of research services that are designed to keep business technology executives up to speed on the latest leadership, business, technology and global macro-economic trends that are impacting businesses and industries.
HMG Strategy's latest advisory service is the HMG Strategy Genius Service, a unique peer-focused subscription service in which CIOs and other technology executives in the HMG community can submit inquiries regarding a particular challenge they may be facing (e.g.; negotiating a global ERP licensing agreement) and be matched with an expert in the HMG network who can offer qualified expert advice.
HMG Strategy's Global Media Model generates more than one million impressions per week, providing vast opportunities for business technology leaders and sponsor partners to promote themselves, their thought leadership and their professional brands on a global scale.
HMG Strategy is the premier platform for building your brand and accelerating your career ascent. Join our network and see what HMG Strategy can do for you and your organization. To learn more about any of these services, contact me at hunterm@hmgstrategy.com or at info@hmgstrategy.com.