Jay Ferro, EVP, Chief Information, Technology & Product Officer at Clario: Adding Value to the Business Through the CIO+ Role, EVP, Chief Information, Technology & Product Officer, of Clario
As CIOs have become more ingrained in the business, a growing number of CIOs and business technology executives have taken on additional business responsibilities as part of their roles. These CIO-plus responsibilities range from logistics to supply chain operations to product oversight as well as customer experience.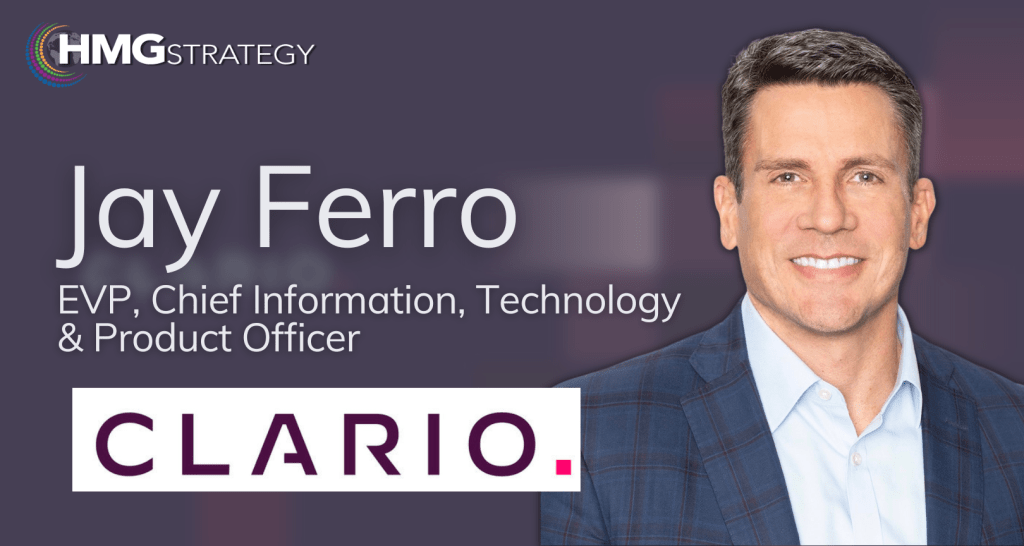 HMG Strategy Founder and CEO Hunter Muller recently conducted an HMG Spotlight interview with Jay Ferro, EVP, Chief Information, Technology & Product Officer at Clario. In this condensed version of the interview, Jay, who will be a featured speaker at HMG Strategy's 2023 Atlanta CIO Executive Leadership Summit on August 18, shares how he came about adding 'Product Officer' to his title at Clario, which provides clinical research data management services to pharmaceutical companies and the healthcare industry.
Hunter Muller: Jay, welcome to the HMG Spotlight. Congratulations on being a named as a 2023 HMG Strategy Global Leadership Institute Award recipient.
Jay Ferro: Hunter, thank you. It's an honor to be recognized by HMG Strategy. Really, this award is a team award. I have a great team that really makes the magic happen. I'm very grateful and thankful and proud of all of them.
HM: Thank you, Jay. I'm thrilled to be here with you today. Wow, you've had an amazing career. I've noticed you tend to pick vision and mission organizations to thrive in. Tell us what's unique about your work at Clario.
JF:I've recently added the title of Product Officer at Clario. Being a product officer truly is a unique build or add-on to the CIO and the CTO role. We play a critical role in bringing therapeutics to market. We're part of the clinical trial process.
We've played a role in a majority of therapeutics that have been brought to market over the last 15-to-20 years. We play a key role and it's very exciting when you'rehelping bring about drugs and therapies that are transforming lives.
At the end of the day, I really feel like people have a choice, especially in today's remote or hybrid market, people have a choice for where they work, and they want to be inspired. They want to do meaningful work. And they're willing to work hard for a mission they believe in. It's about making sure that people at any level within the organization have real line of sight into the impact that they make every day into the work Clario does and the role we play in the global clinical trial ecosystem is super important. Because no matter how hard things get during the day or what the demands are, what our timelines are, what new technologies are there, that North Star is always there for us to point to and say, 'Remember why we're doing this, the difference that we're making.'
Yes, we all want to make money and make a paycheck and all of those things. But you have options. Not many organizations can provide the difference that we make in the world every day.
HM: Brilliant. So, the overall mission and value that Clario provides truly is a global point of view on the medicinal supply chain, yes?
JF: It is. We do work in dozens of countries. My team is in dozens of countries all around the world. We're truly a global organization. And it's very exciting. It's very exciting because we get to work not only with leading-edge technologies, but we get to work with some of the best sponsors and passionate scientists all around the world. This includes a lot of people who don't get the spotlight running clinical trials on a day-to-day basis.
And certainly, you've got to keep the patients top of mind. The patients aren't volunteering for this because they're bored. Oftentimes, patients are going through a very tough time. They're looking for hope. We have to keep that patient burden super focused so that we make life easier for them. We do the best work we can to bring therapeutics that are effective and safe to them as fast as possible.
HM: Excellent stuff. Jay, talk to us about your relationship with the CEO.
JF: Dr. Chris Fikry is a terrific leader. He's a servant leader. He's an open leader. He treats me as a colleague, and he trusts me. He and I have a great relationship.
He wants candor from me. I expect candor from him. You know, it's a real blessing to have a leader like that. It's an enabling force.
ay Ferro will be a featured speaker at HMG Strategy's 2023 Atlanta CIO Executive Leadership Summit on August 18. To learn more about the topics we'll be exploring at the Atlanta summit and to register for the event, click here.