Join me on Oct. 24: Accelerating Value Realization from Cloud Investments
Two regional wars. Supply chain constraints. Stubborn inflation and rising interest rates. These are just a few of the global macro-economic challenges that are creating headwinds for business technology executives and fellow members of the C-suite to execute on and achieve their strategic goals.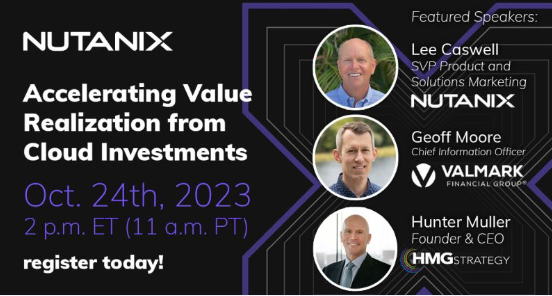 These and other geo-economic constraints are some of the prime reasons why CIOs and fellow business technology leaders are focused on finding new ways to cut technology costs and to make their organization's operations more efficient, according to our research at HMG Strategy.
These economic conditions and IT spending trends dovetail perfectly into a webinar we are hosting on October 24 at 2 p.m. ET/11 a.m. PT that's focused on 'Accelerating Value Realization from Cloud Investments.' According to our Spring 2023 Technology Spending Index survey results, 63% of CIOs and business technology executives in the 500,000+ strong HMG community have boosted their cloud spending plans for 2023. But more importantly, are they getting the most bang for their investments?
Business leaders certainly want to know. For instance, managing cloud spend is the number-one challenge cited by CEOs and other business leaders in the 2023 Flexera State of the Cloud Report, with 82% of all organizations putting it at the top of the list, even surpassing security concerns (79%).
I strongly encourage you to join me Tuesday as I explore effective ways to optimize spending and resources in a multi-cloud environment with Geoff Moore, CIO at Valmark Financial Group along with Lee Caswell, SVP, Product & Solutions Marketing at Nutanix, one of our top business partners that's creating immense value for its clients. We'll be diving into the steps that Geoff and his team at Valmark have taken to define the value and business outcome driven by their cloud strategy along with the techniques they've been able to apply to increase value realizations from their cloud investments in their partnership with Nutanix.
Click here to register for the webinar. This promises to be an enlightening discussion with actionable advice to help you to optimize your organization's cloud investments and further demonstrate the value you're delivering to the business.
I look forward to seeing you on October 24th!