Laura Money, EVP, Chief Information & Technology Innovation Officer, Sun Life: Fostering a Purpose-led Transformation, Executive Vice President & Chief Information and Technology Innovation Officer, of Sun Life
Companies that have a clear purpose and are mission-driven are more likely to attract and retain top-tier talent, according to research from Deloitte.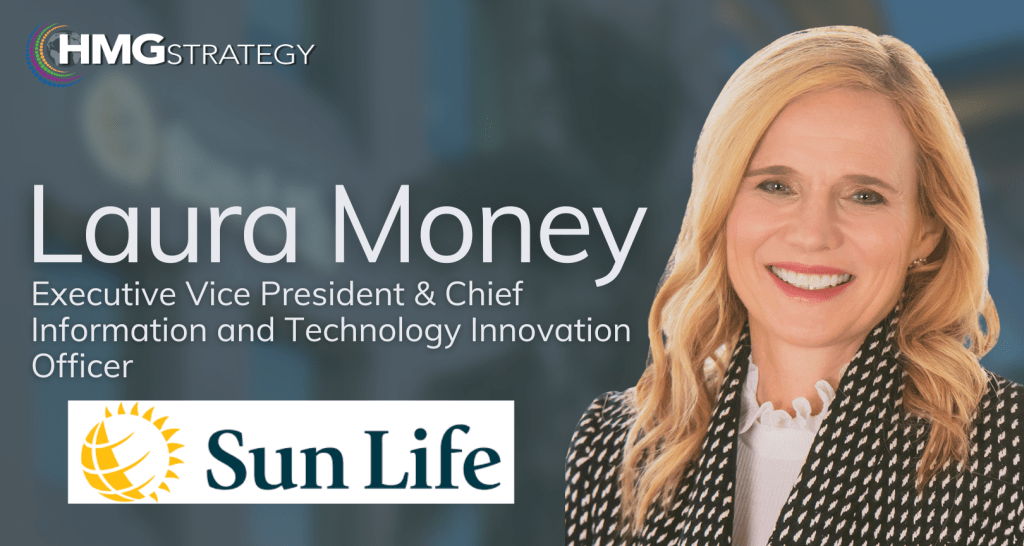 HMG Strategy Founder and CEO Hunter Muller recently spoke with Laura Money, EVP, Chief Information & Technology Innovation Officer at Sun Life regarding the company's purpose-led approach along with how this is fostering digital transformation across the business.
The following is a condensed version of their discussion.
Hunter Muller: Laura, congratulations on being named as a 2023 HMG Global Leadership Institute nominee!
Laura Money: Thank you so much for the nomination and for having me today.
HM: What was the initial attraction for you to go to Sun Life?
LM: You know, more than any organization I've ever been involved with, Sun Life is truly a purpose -led organization and our employees feel really strongly about it.
Our purpose is to help our clients achieve lifetime financial security and to live healthier lives. Our CEO (Kevin Strain) has been in place for nearly two years. When he first joined and took on the role, he went and checked with the employees to determine whether we should evolve the purpose.
They all said 'No, the purpose is what draws us here. The purpose is what we all believe in.' And it's true, I see it every day. People talk about our purpose. And I was really drawn to that goal, especially the `living healthier lives' piece and the goal of helping people access and navigate health care and to really enjoy their lives from a health perspective.
I joined during the pandemic. Our purpose was particularly relevant at that point. But it's really been rewarding to see how we can help clients around the world and in all of our markets to achieve that lifetime financial security and live healthier lives. Especially at a time when so many were struggling.
I was also drawn to the challenge. Sun Life is a 150-year-old company. We have clients and employees around the world, so we're very global. It was a big challenge to modernize this organization.
Not that we're done. We've still got a lot of work ahead of us. This includes engaging with our clients differently through the use of technology. We're also investing in our technology stack and making sure we have up-to-date technology.
HM: That sounds very ambitious. How are you approaching this from a cultural standpoint?
LM: We have multifunctional teams working in a very agile way. We call it a `digital way of working' to make sure that we're as quick as we can be and as helpful as we can be to our clients.
It's really about modernizing the way Sun Life operates.
HM: Great stuff, Laura. We're studying visionary leadership here at HMG Strategy. When you think of the vision the CEO has and your ability to help digitize the company's go-to-market strategy, what does digital mean to you and the organization?
LM: Digital is a core part of our strategy. It's right up there with our core strategic objectives. I think what is so wonderful about our vision is that it's really comprehensive.
It's really about changing the way we go to market with our clients and creating those great digital touchpoints and experiences, almost being a digital friend to help our clients with their financial security and their health.
This includes fundamentally changing how we work together within the organization so that we're much more agile and collaborative while always thinking with that end client in mind.
So, that's the vision and it's truly a holistic and comprehensive approach.
Laura Money will be a featured speaker at HMG Strategy's 2023 Global Innovation Summit on December 12 in New York. To learn more about this summit and to register for the event, click here.