Sanjib Sahoo, EVP and Global Chief Digital Officer, Ingram Micro: The Criticality of Inclusion in Visionary Leadership
According to the Center for Management & Organization Effectiveness, a visionary leader is defined as "one who inspires their team members towards a common goal or purpose through innovation and collaboration. They encourage team members to leverage their own innovative ideas to fuel creativity while navigating the team toward a unified vision."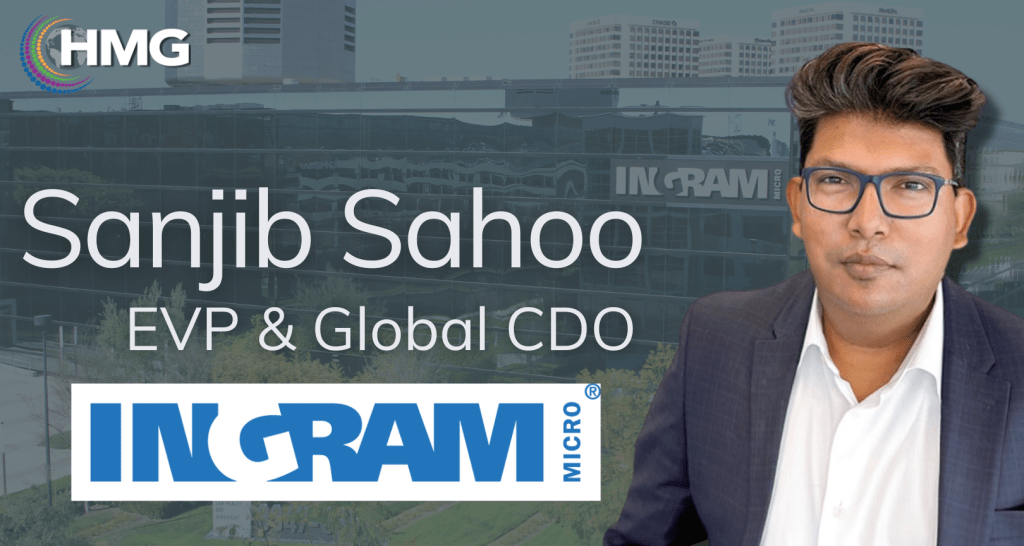 HMG Strategy Founder and CEO Hunter Muller recently spoke with Sanjib Sahoo, EVP and Global Chief Digital Officer at Ingram Micro about what it takes to be a visionary leader as well as what he's most passionate about in his role for the Fortune 100 technology giant.
Here's a condensed version of their discussion:
Hunter Muller: Sanjib, you have an amazing role in a large, global company. When you think about visionary leadership, what does it mean to you, for your relationship with the CEO and for your team?

Sanjib Sahoo: I think visionary leadership is very important in today's world. Why? Because most organizations are trying to transform, trying to be better, trying to do more with less and to redefine themselves. You have to have a vision. You have to define the "new" but also explain the "next." Which means you have to include your employees – be inclusive – explain the details of how to execute the vision. This includes explaining how we need to learn to think big, act small and fail fast.
But the most important lesson that we have learned with visionary leadership is that it's not about being perfect. Before, leadership was about being perfect. Today, visionary leadership is about being vulnerable, settling for imperfection, being imperfectly perfect — but a little more perfect every single day. That drives us towards that goal and the vision and the understanding of that is very important because that drives the spirit of innovation and cultural change in the organization.

HM: Great stuff, Sanjib. What are you most passionate about right now in your role at Ingram Micro?

SS: Ingram Micro is becoming a platform company from a distributor. In the last year, we have launched our flagship digital twin platform, Ingram Micro Xvantage. It's now deployed over many countries, to many customers through our partners. We are getting tremendous feedback. Recently we launched industry's first seamless agnostic experience across hardware, software, cloud subscriptions. And we are seeing the excitement in our partners, our employees and our vendors.
We are seeing this transformation in front of our own eyes — that excites me! There is a palpable energy throughout the whole company. We are doing something unique, something special, and being able to be a part of that, that truly excites me.

HM: When you think about the challenges surrounding innovation and building a transformational culture, culture matters. What do you think about when you build a world-class culture?

SS: Culture is very important. The most innovative companies do not hire an innovator or an entrepreneur. They want to have an entrepreneurial or innovative spirit. And this spirit makes or breaks culture and can eat strategy for breakfast. So, the right culture for innovation or transformation needs to embrace change, eliminate fear and fail fast, which is very important.
Sometimes, we focus too much on that 40% chance of failure versus that 60% chance of success. We also worry too much about perfection. That's why we are scared to fail. We also need to learn that failure sometimes teaches us more. Including our employees in this is very important because transformation does not happen to our employees. Transformation happens with our employees. The moment we realize that and take them together, that's how you create a culture of innovation.

HM: Interesting, when you think about technology, sometimes it's not the brightest or the most innovative technology that drives results. What do you think about in terms of innovation and new technologies?

SS: Shiny technology is pointless without driving value. What is most important is how do we drive value? How do we create and take the organization to the next level? Through technology. Technologies come and go, but in the future, we have to make humans and machines work together.
To view the full HMG Spotlight interview with Sanjib,