The Rise of the Chief AI Officer: Florin Rotar, Chief AI Officer, Avanade
As companies continue to develop applications and use cases for AI, there's a bit of a California Gold Rush mentality taking shape. While many business leaders envision vast productivity and monetary gains from the use of AI within their companies, business technology leaders are trying to temper these lofty expectations by positioning the potential risks involved, as well as the need for AI ethics and board oversight.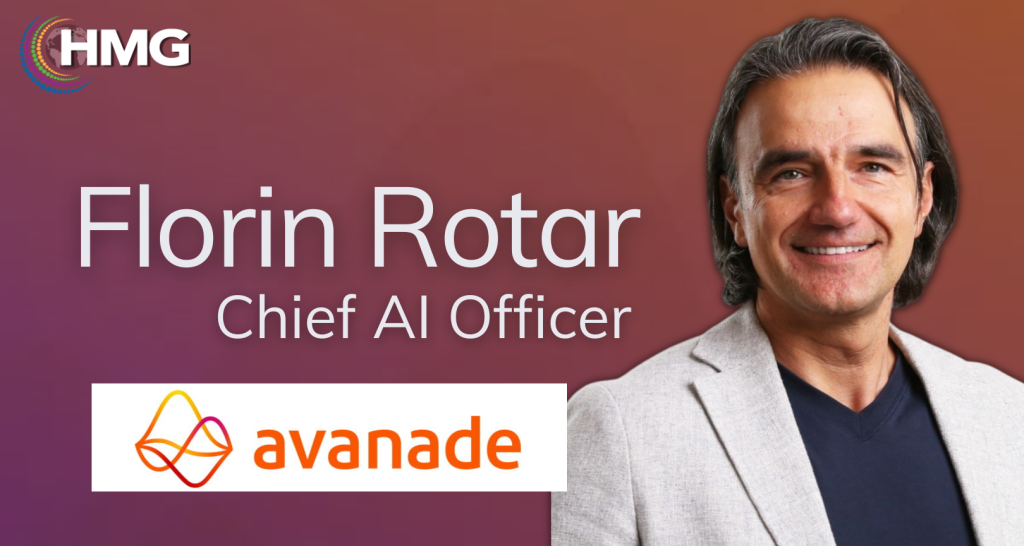 HMG Strategy Founder and CEO Hunter Muller recently conducted an HMG Spotlight interview with Florin Rotar, the former CTO at Avanade who was recently named as the company's Chief AI Officer.
In this condensed version of the interview, Florin talks about how the role of the Chief AI Officer fits in with other members of the C-suite along with his views on the short-, medium- and long-term impacts of AI.
Hunter Muller: Florin, congratulations on being named as a nominee for the HMG 2024 Global Leadership Institute!
Florin Rotar: Thank you, Hunter. It's a pleasure to be here.
HM: Tell us more about what being a Chief AI Officer really means and why this is so important for every company to be thinking about.
FR: We believe that we're entering what we would call an AI-first era, where we certainly believe that the nature of the business is going to change dramatically. That's certainly the case for professional services, which is the business I'm in, but it's also true in other industries.
Therefore, we've established this new role to pull all the dimensions together, across all of the business, managing risk and reward, managing the people dimension and the technology dimension to help lead us into the future.
I'm very excited about this.
HM: When you think about AI and building a high-performing team, how does your role fit in with the rest of the C-suite?
FR: This is really interesting. My background is as a technologist. My previous role was Chief Technology Officer.
So, this might seem a little bit strange coming from a technologist, but we believe that to be AI-first, you actually have to be people-first. Clearly, AI is a lot about technology. It's a lot about data. But we feel strongly that AI is actually more about enabling people to become the best versions of themselves and to really help them to gain new skills, to realize themselves in their roles.
Therefore, part of my job is to pull together the capabilities we have with our Chief HR Officer, our Chief Operating Officer, our Chief Finance Officer and our Chief Growth Officer. Essentially, the entire spectrum of our business to figure out the right balance of people and technology risk and reward.
HM: Thanks, Florin. Bill Gates once remarked that when technology innovation comes along, we tend to overestimate the short-term impact and underestimate the long-term impact. How big of a seminal moment is this with AI in the enterprise?
FR: It's a good question, which is not easy to answer, but I'll try.
I think this is going to fundamentally change industries, in the medium term. It's certainly going to change professional services. It's changing media and entertainment. It's also changing healthcare. It will have a substantial impact in financial services.
I believe this is actually more than just a generational shift. I would dare to say it's approaching the level of impact that the industrial revolution had on society. But I also think we're seeing the short-term impact.
To give you an example, we are a very early user of Microsoft 365 Copilot. We're using this to change how our people work differently, to get a better balance of things you need to do when you're collaborating and you're thinking and truly creating. It's having an impact right now and it's certainly having an impact on me, for example, in the way I do teams meetings every, every single day. However, Avanade and our research partners just surveyed 3000+ business and IT executives globally and 79 percent said they anticipate generative AI tools like Microsoft 365 Copilot will ultimately impact up to 20 hours of their work week. So, to answer your question, I think it has a short-term impact and it will have a very substantial medium and long-term impact.
I think there is a risk of a bit of a valley of disillusionment because the IT industry is a little bit irresponsible around over-hyping this to some extent and jumping in without really thinking this through first.
HM: Great stuff, Florin. How are you working with external CEOs and boards on these issues in your current role? And how are they thinking through the risks associated with AI?
FR: I think the maturity level of different organizations varies a lot. But I would say the clients which we work with which are the most successful right now are the ones who truly think about the values at the board level and the C-suite level because the economic climate is changing.
I think staying true to your values when you're defining an AI-first strategy and using that as your North Star and then truly and deeply anchoring those values in your responsible AI framework which they hopefully have is critical. Their organizational readiness is so important and makes such a such a big impact because it leads them to make the right decisions on the use of AI.
I think this is really important because while there are loads of experiments and pilots going on right now, getting true genuine business value out of generative AI is not yet quite as common and there is always a risk of contributing to a problem rather than being part of a solution in terms of creating more digital noise or thinking too short-sighted about automation.
So, to summarize, I would say the boards and the C-suites that we work with which are successful truly focus on values. They focus on the 'why.' And then they put people first as I was saying previously and they're figuring out how to use this technology to empower their people to have a better professional life and a better personal life rather than just for automation and productivity gains.
Florin Rotar will be a featured speaker at HMG Strategy's 2023 Silicon Valley CIO Executive Leadership Summit on October 17. To learn more about this summit and the topics that will be explored, click here.