Vipul Nagrath, ADP: Leverage Data for Winning Experiences and Put Your People First
The quick pivot for many companies into a fully remote work environment was a shock to the system early last year. Technology executives around the globe were advised to send their teams home without ever having tested such a model. In many cases productivity surged, and breakneck work paces allowed a digital shift almost overnight.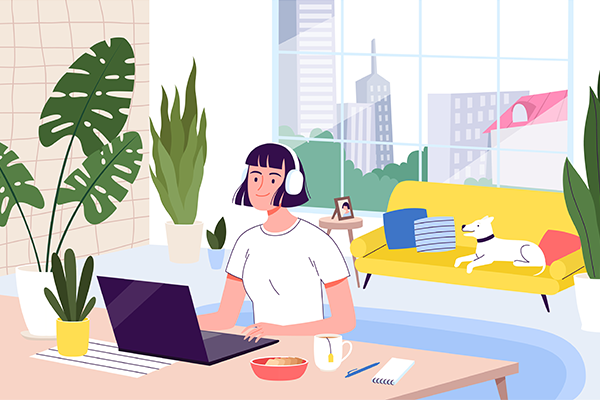 Many technology leaders predict that the efficacy of a virtual office was not just a fleeting symptom of unprecedented circumstances, according to research from PwC. The data shows 83% of employers reporting sustainable success in December 2020, compared to 73% in June.
Recently, HMG Strategy caught up with Vipul Nagrath, SVP, Product Development – Head of Technology, Workforce Now, Major Accounts, HRO at ADP, about the unique new challenges that technology leaders are facing, and opportunities for data to push the business forward.
HMG Strategy: What is the biggest leadership challenge you are facing?
Vipul Nagrath: I spend a lot of time meeting with people on screen, and it's been both a boon and a challenge. It's a great equalizer. Everyone gets equal say on a video call. On the flip side, not having that deeper personal connection to get into a more casual conversation is a challenge. There's this belief that you can't just pick up the phone and talk to someone, that it has to be scheduled. I'm seeing more timidness from my team now whereas in-person, it was more of an open-door policy and people would just drop in and vice versa.
On the plus side, productivity has been very high and the speed with which we're able to get things done has been very positive.
What advice can you offer to CIOs who are struggling to help keep employees engaged and motivated in this prolonged remote work environment?
VN: That's a big concern shared by many leaders right now. Some employees are happy to not have to work in an office and enjoy the flexibility and reassurance of working from home. Others have small children at home with them and are competing with childcare needs and the distraction of working amid other members of the household.
There are many factors that need to be addressed together. After a while, this bombardment of news, the projection that more things could happen and the isolation that could be extended mentally weighs down on people's minds.
What we're doing is conducting frequent engagement surveys, asking people how they are doing. We're also doing outreach through larger town halls and virtual gatherings where we can get together and connect. I have a list of people I call each week, rotating further down—not direct reports of mine—and talk for a half hour on video about how they're doing.
How should CIOs think and act differently to drive innovation for the organization?
VN: We're in a cycle now driven by COVID-19 where there's a lot of pressure on technology executives to react quickly and be resilient.
As a company that develops software products, we had to pivot quickly. Following the onset of the global health crisis, there were government programs and regulations that came out such as the Paycheck Protection Program (PPP) that allowed companies to seek loans from the Federal government. Our clients required documentation from us to obtain funding through PPP, so we needed to make that available for our clients quickly and easily. That's an example of where we had to build a set of reports and gather a set of data for our clients in a very targeted program with limited time.
Now, as businesses are returning to the workplace, we're becoming much more involved with contact tracing and touchless technologies.
---
Data Brings Value and Opportunity
Strategic leveraging of data is more significant to the employee experience and customer experience since the advent of the common remote work environment. In fact, 60% of CIOs predict data and analytics will be an enabler for business on a 3-year roadmap, according to data from Deloitte.
ADP has been expanding the capabilities of its data tracking business tools, notably with the Storyboard Experience now available in ADP® DataCloud as a predictive analytics tool for problem solving in operations management and human resources.
How is ADP using data to drive business insight?
VN: We're developing actionable insights for our customers, so they can leverage the full value of their own data. These insights are only going to make you more effective. We're using machine learning (ML) and artificial intelligence (AI) to deliver that targeted insight; we're not aggregating that data to give to other people.
Our DataCloud and its Storyboard capabilities are a very strategic aim for us. We're pleased that the market is recognizing the models we've built and that clients are seeing the benefit of actioning against those insights.
Tell us about the pay equity storyboards created at ADP for hiring managers. What insights do they provide?
VN: We look at your titles and job architecture and we use that information to provide our clients with insights into pay equity. For instance, you might have two senior vice presidents in a given role, where one has ten years' experience and the other has five years' experience. We can point to the differences in what they each earn.
We have captured gender, ethnicity and race— at a dashboard level, we can see where we have certain percentages of a particular minority among leaders. Do the ratios stay the same or do we have degradation?
How have clients responded to these insights?
VN: In many cases, clients weren't aware of some of the differences that are in place by gender or ethnicity. Then they have the ability to drill down by geography and other differences.
As leaders of a company, you have to figure this out— are you committed from a diversity, equity and inclusion perspective?
To hear more of the world-class thought leadership from ADP and Vipul Nagrath, join us for the 2021 HMG Live! New Jersey CIO Executive Leadership Summit, where Nagrath is speaking in an executive panel on courageous leadership and fearless reinvention, guiding the modern enterprise in dynamic times.