More Data Points Show Essential Role of Digital Technology in Driving the 21st Century Economy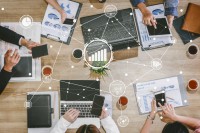 I have often said and written that now is the best time to be a technology leader. A series of new data points vividly demonstrates the pivotal role of digital technology in sustaining, supporting and driving our modern economy.
Tech firms continue to issue public offerings, and those offerings generally have been well received. In Friday's HMG Tech News Digest, I cited three recent tech IPOs: Palantir, a data science company that helps government agencies sift through mountains of data; Asana, a provider of collaboration software; and Velodyne Lidar, a provider of smart and powerful lidar solutions for autonomy and driver assistance.
I also cited research indicating that active users of Robinhood, the popular investing app, may have helped stock markets remain relatively stable during the months of financial upheaval resulting from the Covid-19 pandemic.
Over the weekend, CNBC reported that more states will be using the pandemic-tracking technologies developed earlier this year by Apple and Google.
"Six months after it was announced, the tech that Apple and Google built for sending Covid-19 exposure alerts to smartphones is finally gaining momentum in the United States," writes Kif Leswig of CNBC. "If the system works properly, the apps will provide push alerts to any user who came in close contact to another app user who tested positive for the coronavirus. Users can also use the apps to alert everyone they were nearby that they tested positive without revealing their name or phone number. For health bodies and governments, the apps could help slow the spread of the coronavirus by identifying people who might test positive that could be missed by other methods, such as contact tracing."
As I wrote last week, technology has become the trusted ally of organizations large and small. Companies of all types and across all industries are spending more on tech. The Harvey Nash/KPMG's Global CIO Survey for 2020 shows a surge in IT spending, and continuing optimism about the irreplaceable value of tech in the modern enterprise.
As a result, the roles of technology leaders have been raised and elevated substantially. From my perspective, this positive shift will have a lasting and permanent impact on all of us in technology leadership roles.
People no longer argue about whether their company is a "digital" company or a "traditional" company. Today, every company is enabled and supported by digital technologies. You simply cannot operate a company without modern tech.
This sea change has been on the horizon for a while. The pandemic accelerated a movement that's been growing for decades. In retrospect, the shift to digital seems inevitable.
We've all seen promising technologies falter and fall by the wayside. This time is different, however, because digital tech is no longer an adjunct to the broader economy. Today, technology is truly inspiring, energizing and driving our economy.
At HMG Strategy, we cover what matters most to you: Courageous leadership, inspiration, hope, resiliency, accelerating career ascent, driving a winning agenda and making the world a better place. Our primary mission is enabling and supporting you: the modern technology leader.
We are the world's largest independent global platform for technology leaders, with a growing network of over 400,000 technology executives. Our global, social and digital platform has expanded significantly, and we welcome you to visit the HMG Strategy Resource Center to learn directly from the most innovative leaders of our time. As we continue to grow, we have launched unique executive services that include HMG Ventures, HMG CIO and CISO Executive Leadership Alliance (CELA), Executive Decision Support (EDS) CELA, and HMG Adventures.