Philadelphia CIO Executive Leadership Summit Focuses on Key Strategies for Enabling Trust, Innovation and Business Growth in Ultra-Competitive Modern Markets
Our 2022 Philadelphia CIO Executive Leadership Summit yesterday was a truly exceptional event, featuring world-class content, brilliant conversations and an inspiring roster of expert speakers. The summit provided actionable insights and practical strategies for technology executives in the modern enterprise as they confront the need to motivate employees and foster an environment of trust, stimulating and nurturing a collaborative culture that will spark innovation and drive business outcomes, enabling their organization to win in the marketplace while attracting, growing, and retaining the people and skills that are needed to power the successful 21st century organization
Here is a quick recap of highlights from yesterday's high-value summit: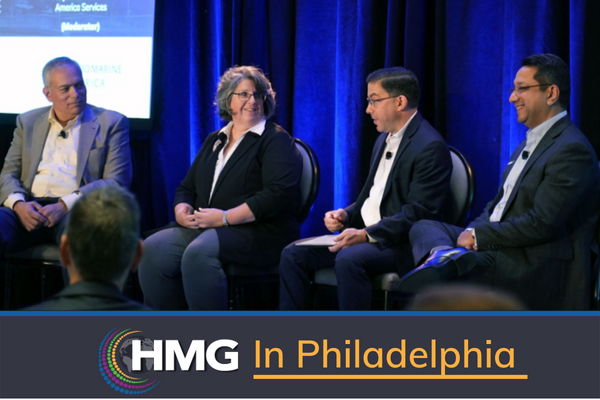 In the morning session, I moderated an insightful Executive Fireside Chat with Christine Converse Hogan, CIO Advisor at Zoom, the communications technology giant. We spoke in depth about strategies for ensuring client retention and growth in a post-pandemic world; leveraging AI and automation to positively impact business insights and promote future business growth; and generating a workplace culture that engages employees both at home and in the office. We also talked about how the intersection of experiences (customer, user, and employee) is defining the way that CIOs evaluate and implement new technology and explored how these experiences can lead to client growth and retention, employee satisfaction, increased cost savings, improved clearance times for bottlenecks, and higher ROIs.
In the summit's afternoon session, I interviewed Nate Smolenski, CISO and Head of Cyber Intelligence Strategy at Netskope. Our conversation focused on how a modern security program must align with the modern business environment – focused on zero trust principles, addressing overarching enterprise risks, progressing beyond basic allow/block decisions and continuously evaluating the context surrounding each interaction – by offering and adapting the right level of access at just the right time. Service Edge (SSE) is the security stack that helps deliver the promise of cloud and digital transformation.

I also moderated a fascinating executive panel focused on effective strategies for attracting and retaining top talent in highly competitive markets. The panel included Hugo Fueglein, Managing Director, Diversified Search; Srini Gudipati, Vice President of Information Technology & Digital, United States Cold Storage; Kate Cione, VP of Strategy, The O'Connor Group; and Brian Anderson, President, The Judge Group. We spoke about how top-tier CIOs and technology executives position their leadership styles to help attract and retain the skills and resources needed to move the 21st-century enterprise forward. This includes demonstrating authentic and inclusive approaches to solving critical challenges together and listening and responding thoughtfully to the needs and interests of employees.
Additionally, we announced our most recent HMG 2023 Global Leadership Institute Awards Program Nominations:
Rocco Grillo, Managing Director – Global Cyber Risk Services & Incident Response Investigation, Alvarez & Marsal
Michael Golz, CIO, Americas, SAP
Previous Honorees Include:
Angela Yochem, EVP Chief Transformation and Digital Officer, Novant Health
Chiranjoy Das, Former CIO, Randall-Reilly
Dara Meath, Divisional CIO, Conair
John Repko, EVP & CIO, AIG
Jon Harding, SVP, Global CIO, Conair
Joseph Puglisi, Chairman, Co-Manager, North Andover Investors Collaborative, LLC and J. Puglisi LLC
Laura Whitt-Winyard, Former CISO, Malwarebytes
Lawrence Bilker, CIO, Lift Solutions Holdings
Robert Lux, EVP, Co-CEO & COO, Cenlar FSB
Tony Leng, Managing Director, Practice Lead and OMP, Diversified Search
The HMG 2023 Global Leadership Institute Awards honor elite global technology, business and search leaders whose teams are delivering unparalleled value to their organizations. These prestigious awards recognize the top-performing Chief Information Officers, Chief Information Security Officers, and other Senior Technology Leaders, Search Industry Executives, Venture Capitalists and Partner Executives who have demonstrated exceptional leadership in the following areas:
Diversity, Equity & Inclusion (DEI)
Leading Into the C-Suite
Safeguarding the Enterprise
Building a Culture of Trust
Creating New Go-to-Market Business Models
Modernizing Enterprise Architecture
HMG's 2023 Global Leadership Institute Awards recognize truly exemplary technology executives for their performance as courageous leaders, powerful innovators, and superior contributors to their organizations​​. Recipients of these awards include executives who have also shared world-class thought leadership with the HMG Strategy CIO and CISO Executive Leadership Summit series audiences and/or on the HMG Strategy Digital Platform as part of their ability to lead, reimagine and reinvent their companies and their organization's business models.
The HMG Ecosystem also includes our HMG Global Actionable Insights Advisory Services, a unique set of research services that are designed to keep business technology executives up to speed on the latest leadership, business, technology and global macro-economic trends that are impacting businesses and industries.
HMG Strategy's latest advisory service is the HMG Strategy Genius Service, a unique peer-focused subscription service in which CIOs and other technology executives in the HMG community can submit inquiries regarding a particular challenge they may be facing (e.g.; negotiating a global ERP licensing agreement) and be matched with an expert in the HMG network who can offer qualified advice.
HMG Strategy's Global Media Model generates more than one million impressions per week, providing vast opportunities for business technology leaders and sponsor partners to promote themselves, their thought leadership and their professional brands on a global scale.
You can view the complete program and agenda for yesterday's summit here. I urge you to consult our schedule of upcoming summits and to register for one of our unique world-class events.
We are the platform for building your brand and elevating your career. Join our network and see what HMG Strategy can do for you and your organization. To learn more about any of these services, contact me at hunterm@hmgstrategy.com or at info@hmgstrategy.com.