A Dynamic Month of High-Energy CIO Leadership Summits Focused on Leading, Inventing and Winning in the Modern Global Economy
November is a truly action-packed month for the HMG Strategy network of world-class technology leaders and executives. Last week, we hosted our 2022 Greenwich CIO Executive Leadership Summit. This week,we're hosting our 2022 Denver CIO Executive Leadership Summit and our 2022 Charlotte IT Executive Leadership Summit in Partnership with SIM Charlotteon November 8 and November 10, respectively.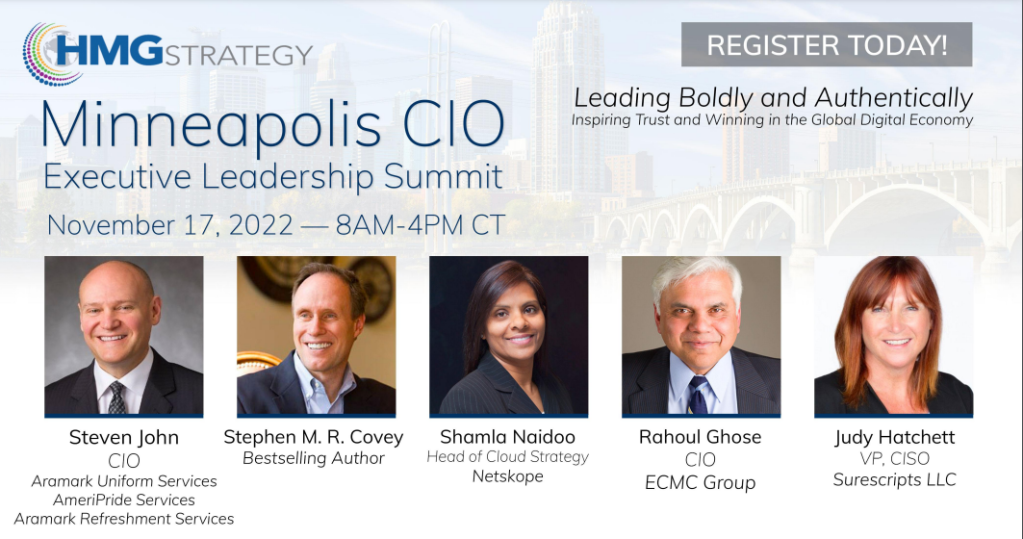 Next week, we're hosting our 2022 Houston CIO Executive Leadership Summit and our 2022 Minneapolis CIO Executive Leadership Summit. Then we take a quick break for the Thanksgiving holiday and return on Dec. 1 to host our 2022 New York Global Innovation Summit.
The summits are an essential part of our continuing HMG Strategy CIO and CISO Executive Leadership Summit series, and they feature an exceptionally wide range of highly accomplished speakers, presenters and panelists. Our goal is to prepare you for the future and accelerate your career ascent. The summits provide exceptional opportunities for peer-to-peer professional networking and the sharing of professional insights. They deliver a consistently powerful message of how trust, collaboration, innovation, courage, authenticity resiliency, empathy and inclusion can foster business success and growth in turbulent times.
Our upcoming 2022 Minneapolis CIO Executive Leadership Summit is shaping up to be an exceptional event. The theme of our upcoming 2022 Minneapolis CIO Executive Leadership Summit is `Inspiring Trust and Winning in the Global Digital Economy,' and our roster of prestigious speakers includes ​Scott Ammon, Senior Cybersecurity Solutions Principal, Insight Solutions; Sridher Arumugham, Sr. Principal Advisory Services Consultant – Data Strategy/Data Governance, Informatica; Ramesh Babu, CIO, Digi-Key; Patricia Connolly, CEO, Founding Partner, SMC Squared; Stephen M. R. Covey, Global authority on trust, leadership and culture, The FranklinCovey Global Speed of Trust Practice; Tom Cullen, CIO, Corsair; Michael Downs; CTO, Evolving Solutions; Sarah Engstrom, CISO and VP IT Security, Productivity & Privacy, CHS Inc.; Rahoul Ghose, CIO, ECMC Group; Ryan Gilligan, Vice President, JM Search; Luis Giraldo, RVP, Business Value Consulting, OutSystems; Judy Hatchett, VP Information Security & CISO, Surescripts; Steven John, CIO at Aramark Uniform Services, AmeriPride Services, and Aramark Refreshment Services, Aramark; Dennis Keane, Chief Information Officer, Red Wing Shoe Company; Harold Knutson, Strategic IT Consultant & Digital Thought Partner, Bayside Associates, LLC; Doug Koch, Chief Information Officer, Edina Realty; Michael Lacey, Founder & CEO, Digineer; Aimee Martin, Director, Information Security, Compliance and PMO, Vista Outdoor Inc.; Kristin McKenzie, Senior Director, IT, Digi-Key; Mark Murphy, VP & CIO, St. Jude Medical; Shamla Naidoo, Head of Cloud Strategy, Netskope; Board Director, QBE, SAC, and Reference Point; Anudeep Parhar, Chief Operating Officer & General Manager PKI and IoT Solutions BU, Entrust Datacard; Mary Lynne Perushek, CIO, Mortenson; Christine Pouliot, CEO, Evocent Executive Leadership; Tim Rolfing, Senior Director, M&A Technology Integration Portfolio Management, HUB International; Board President, SIM Minnesota; Hillary Spreizer, President, The Latitude Group; Eric Tan, CIO, Coupa Software; and Greg Thayer, CISO, New Era Technology.
Additionally at the 2022 Minneapolis CIO Executive Leadership Summit, we will announce our most recent HMG 2023 Global Leadership Institute Awards Program Nominations:
Steven John, CIO at Aramark Uniform Services, AmeriPride Services, and Aramark Refreshment Services
Past Honorees Include:
Robin Brown, CIO -Protein Group, North America, Cargill
Kathryn Freytag, CIO, iFit Health and Fitness
Tammylynne Jonas, Global CIO, Self Esteem Brands, LLC
Sean Lennon, CIO, Medtronic
Elwin Loomis, Head of Digital, Bremer Bank
Dee Thibodeau, CEO, Charter Solutions
Tarek Tomes, Chief Information Officer – State of Minnesota
The HMG 2023 Global Leadership Institute Awards honor elite global technology, business and search leaders whose teams are delivering unparalleled value to their organizations. These prestigious awards recognize the top-performing Chief Information Officers, Chief Information Security Officers, and other Senior Technology Leaders, Search Industry Executives, Venture Capitalists and Partner Executives who have demonstrated exceptional leadership in the following areas:
Diversity, Equity & Inclusion (DEI)
Leading Into the C-Suite
Safeguarding the Enterprise
Building a Culture of Trust
Creating New Go-to-Market Business Models
Modernizing Enterprise Architecture
HMG's 2023 Global Leadership Institute Awards recognize truly exemplary technology executives for their performance as courageous leaders, powerful innovators, and superior contributors to their organizations​​. Recipients of these awards include executives who have also shared world-class thought leadership with the HMG Strategy CIO and CISO Executive Leadership Summit series audiences and/or on the HMG Strategy Digital Platform as part of their ability to lead, reimagine and reinvent their companies and their organization's business models.
The HMG Ecosystem also includes our HMG Global Advisory Services, a unique set of research services that are designed to keep business technology executives up to speed on the latest leadership, business, technology and global macro-economic trends that are impacting businesses and industries.
HMG Strategy's latest advisory service is the HMG Strategy Genius Service, a unique peer-focused subscription service in which CIOs and other technology executives in the HMG community can submit inquiries regarding a particular challenge they may be facing (e.g.; negotiating a global ERP licensing agreement) and be matched with an expert in the HMG network who can offer qualified advice.
HMG Strategy's Global Media Model generates more than one million impressions per week, providing vast opportunities for business technology leaders and sponsor partners to promote themselves, their thought leadership and their professional brands on a global scale.
I urge you to consult our schedule of upcoming summits and to register for one of our unique high-value events.
We are the platform for building your brand and elevating your career. Join our network and see what HMG Strategy can do for you and your organization. To learn more about any of these services, contact me at hunterm@hmgstrategy.com or at info@hmgstrategy.com.